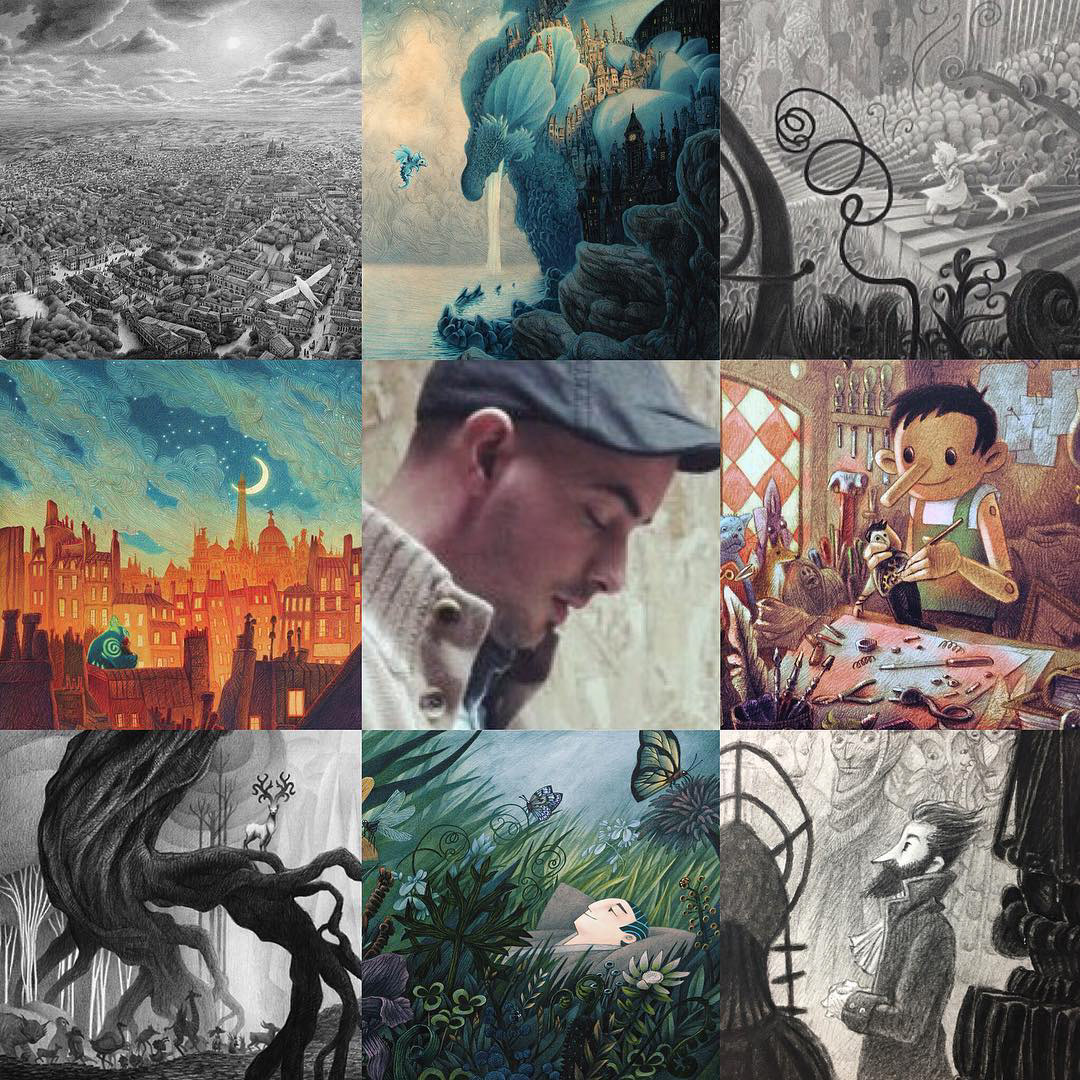 Paul Echegoyen est un illustrateur français né au pied des Pyrénées en 1981, il grandit dans un petit village en rêvant d'ailleurs, de mondes fantastiques inspirés par les univers des films du Studio Ghibli.
Un baccalauréat scientifique en poche, ce passionné d'onirisme suit des cours à l'Académie de Dessin à Tarbes, où ses professeurs l'encouragent à entreprendre une formation dans une grande école d'art parisienne. En 2003, il intègre Penninghen, dont il ressort diplômé d'un master avec mention en 2008. Il travaille alors pour l'animation, la publicité de luxe et l'édition.
En 2011, il publie son premier album jeunesse, "Le Bal des Échassiers", aux éditions du Seuil Jeunesse, chez qui suivra "Baba Yaga" en 2013. En 2016 sont publiés "La légende de Momotaro" et "Les dimanches de Romulus" aux éditions Marmaille & compagnie, ainsi que "1900" aux éditions Les Minots.
Il travaille également en bande dessinée pour les éditions Soleil dans la collection Noctambule, avec "Léonard et Salaï" publié en 2014, et une adaptation d'un des voyages de Gulliver à paraître fin 2018. Son travail est visible aussi dans la presse, notamment dans la revue DADA sur le numéro 197 dédié au réalisateur Hayao Miyazaki.
Dans son travail, il utilise des techniques variées telles que l'aquarelle, la gouache, les encres, les crayons de couleur, mais principalement la mine de plomb.
Il commence à exposer et vendre ses originaux avec les galeries Arludik à Paris et Nucléus à Los Angeles, mais principalement avec la galerie parisienne Daniel Maghen, qui lui permet depuis 2015 de vendre aux enchères de grands formats dans la prestigieuse maison des ventes Christie's.


Paul Echegoyen is a french illustrator born on the bottom of the Pyrénées moutains in 1981, he grew up in a small village, dreaming on fantastic worlds inspired by the universe of the Ghibli Studios movies.
After graduate for high-school, he learned the drawing bases at Académie de Dessin in Tarbes, and his teachers encourage him to study graphic design at Penninghen. In 2008, he's graduated with an Art Director master degree. Since when, he worked on animation, divertising et publishing.
In 2011, his first child book, "Le bal des échassiers", is published by Seuil Jeunesse. Two years after, a second book is published by the same editor, "Babayaga". In 2016, three new child books are published by Marmaille and co, "La légende de Momotaro" et "Les dimanches de Romulus" , and by Les Minots, "1900".
He also worked on comic books with Soleil Editions, in the Noctambule collection. "Léonard et Salaï" is published in 2014, and an adaptation of one of the Gulliver's travel is planed to be publish in 2018. He also works for some art magazines like DADA..
He works with several techniques like watercolors, gouache, inks, color pencils, graphite.
You can sometimes see and buy some originals of his work at Nucleus (Los Angeles), Arludik (Paris), but mostly at Daniel Maghen (Paris).